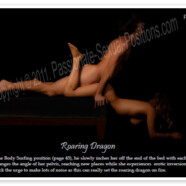 Share This
Sexual Roaring Dragon Position

Couple A -try out the Sex Position 'Roaring Dragon'
We entered this yogic looking sex position from the White Tiger (you may know this one, as I did, as Doggy Style).  We flopped into Body Surfer, and then I crawled off the bed slowly like a lazy cat.  This sexual position is quite relaxing for the woman, and more of a thrilling yoga session for the guy.  I felt my body getting soft and supple while relaxing in the karma sutra sex position.  It was really enjoyable, a bit like reading a magazine on a beautiful beach while being served a delicious cocktail from an incredibly hot shirtless waiter – no wait, that's my husband serving me his delicious cock.  But seriously, Roaring Dragon is in my top ten best sex positions list, which I keep pinned above my office desk to keep me motivated.  Back to reality: When I felt like reconnecting chest to chest, we made a crazy backward clambering crawl, flipped over and cuddled in missionary.
Couple B – "We were shocked we hadn't discovered this Sex Position sooner"
The Roaring Dragon is a great sexual position that we were shocked we hadn't discovered sooner. We found that it is impossible to be quiet once I slid my upper body off the edge of the bed and allowed him complete access to stroke as deeply as possible. The moans and whimpers emerge whether you want them to or not!
With deep strokes that hit every single spot inside including the G-spot it is amazingly hot and offers a deep, full orgasm that you can feel from your head to your toes. The great thing about the Roaring Dragon sex position is that it allows you to give a little return pressure as well because you are resting on your elbows and not trying to balance on shaky arms. It's also a great sex position for the man. He is allowed total access and total control.
This sex position is easy to transition to from either the Body Surfer position or the White Tiger. It's a perfectly natural movement once you give in to your natural rhythm and instincts. The Roaring Dragon has been added to my list of the best sex positions for deep penetration and G-spot stimulation.
'A terrific different sex position' – Couple C
My Dragon Surely Roared!
It's experimentation. Exploration! Getting creative. That's what making love should be about.
Introducing a sex position known as the Roaring Dragon. A terrific name. And a terrific different sex position for anyone to try.
I tried this kamasutra sex position with my wife to realize some surprising concepts: one, I needed real intense upper body and arm strength; and two, it was just basically fun!
You can essentially start from a recessed doggystyle and work your lovely sweetheart down there, and watch that pristine behind pop up for you to press into with ecstasy and desire. According to my wife, the sensations and climaxes (that's right, plural) were intense.
It was nothing short of primal dominance as I literally lovingly impaled my beauty off the bed as she giggled in sweet convulsion at the fact that she was almost upside down!
Take note of this one thing, though: although you would need great upper body and arm strength for this, doing the exercise to optimize this tremendous sexual thrust of unadulterated passion is well worth the effort.
Truly an orgasmic sex position adventure!